Learn how to install iptv subscription on android devices
Hello in this tutorial we are going to show you step by step how to setup iptv server or iptv subscription in your android device, Let me tell you something YEAH its very very easy if you are kid or a grandfather you can do it alone just follow this tutorial.
First of all you will need to buy iptv subscription, once you make a purchase of iptv server you will have two ways to setup iptv on android and watch tv let me tell you the frist one.
1/ install iptv m3u on android :
When you order iptv server you receive an email with m3u playlist url you can use this link to watch iptv server on vlc or you can install it on your android device, first of all go your playstore and write "iptv m3u player" you will get lots of players choose one for example "Simple IPTV Player" download this application and install it your android device go put a valid List and paste the m3u playlist url that we have sent to you like in the picture and you can watch all your favorite channels…. Yes i told you it was very easy !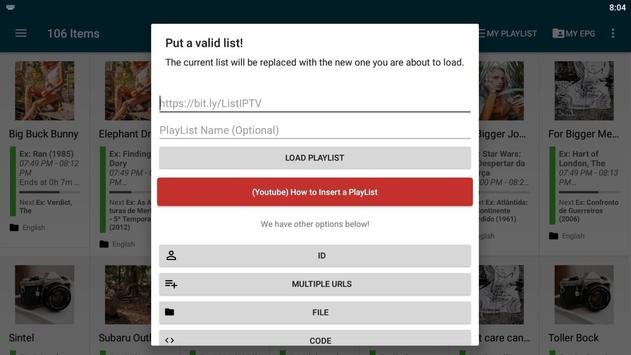 2/ install iptv server with stb emulator on android device
Yes, this step is also easy you will need to go to playstore again and download any stb emulator application the best free one is "stbemu free" using this application you can turn your android device to a mag device once you setup this application you will get a unique MAG address, you will need to send us this address to add it to our iptv server and we will send you the mag portal you will need to add this mag portal and start watching TV !